SIZE
For rings, you can measure your finger size by yourself.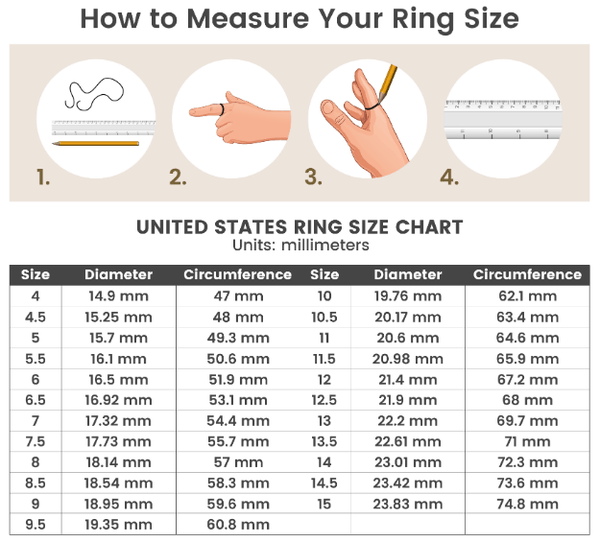 At TimJeweler, we offer extra small to extra large bracelet sizes (US):

5.5 inches for extra small wrists(kids, teenager);
6.5 inches for small wrists;
7.5 inches for regular wrists;
8.5 inches for large wrists;
9.5 inches for extra large wrists.

HOW TO MEASURE

STEP 1: Measure your wrist with a flexible tape measurements or a strip of paper just below the wrist bone, where you would normally wear the bracelet.

STEP 2: If you are using a plain strip of paper, mark your size with a pen or pencil then use a ruler to measure the length, and give your wrist a loose fit to move around.
Necklace Size Chart
CARE

To clean, wipe with soft cloth. Avoid frequent contact with water and strong chemicals, such as detergent, bleach, perfume, etc. Store in a jewelry box or soft cloth.
Nice Gift
I gave them to my sisters for Valentines Day, there a really good idea I just wish I chose a different font it small and you can hardly read the words.
The rings came in and look amazing the inscriptions are perfect and they fit exactly as the sizes says they will. I love these!!
Good quality! All the girls loved them!
beautiful
I got these rings for my two sisters and myself as a Christmas gift and they arrived before Christmas and turned out beautiful!!
gorgeous!
These are absolutely gorgeous!!!! I bought them for me and my younger sisters for Christmas, but tried mine on early.I actually fit it on my middle finger nicely, which is where I wanted to wear it.My sisters are 16 and 12, and they have small fingers and I think the rings will fit nicely on their middle fingers too!
best rings
Seriously the best rings I have ever purchased. (And there have been many over the last 7 years). Truly wonderful. The comfort fit band is SO AMAZING! Allows a little extra room for me when im bloated so my ring can still move freely. Seriously wonderful quality. I got one for each of my sisters i loved it so much
Perfect!
I love these rings so much! I have two sisters and we all wear them all the time! I love them so much I told my bestfriend who also has two sisters and they love them as well!
Love them!
So adorable! For the price, they are worth it!
Nice rings!
The rings are super cute!
shared them with my best friends
These are very cute and well made I have trouble wearing rings because of arthritis so these are perfect. I shared them with my best friend.