SIZE
For rings, you can measure your finger size by yourself.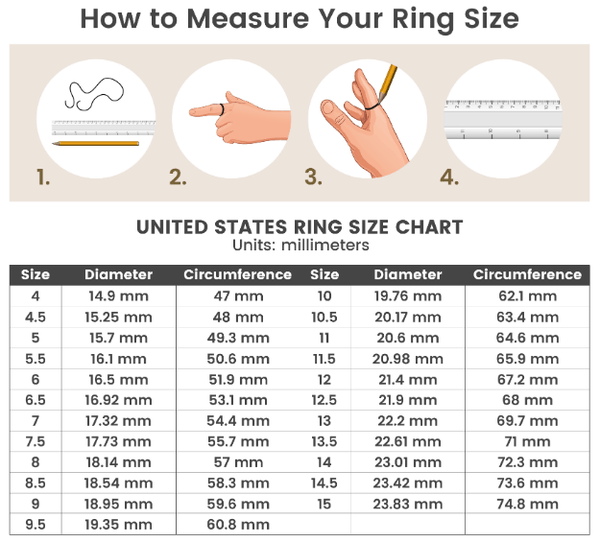 At TimJeweler, we offer extra small to extra large bracelet sizes (US):

5.5 inches for extra small wrists(kids, teenager);
6.5 inches for small wrists;
7.5 inches for regular wrists;
8.5 inches for large wrists;
9.5 inches for extra large wrists.

HOW TO MEASURE

STEP 1: Measure your wrist with a flexible tape measurements or a strip of paper just below the wrist bone, where you would normally wear the bracelet.

STEP 2: If you are using a plain strip of paper, mark your size with a pen or pencil then use a ruler to measure the length, and give your wrist a loose fit to move around.
Necklace Size Chart
CARE

To clean, wipe with soft cloth. Avoid frequent contact with water and strong chemicals, such as detergent, bleach, perfume, etc. Store in a jewelry box or soft cloth.
Great product
Being in between sizes, I ordered the bigger size which I should have gone with the smaller. Other than them being too big for us, the products are wonderful. Great craftsmanship.
They're absolutely perfect! Thank you so much!
Beautiful. Thick bands. Even came with polish!
Great looking ! We LOVE them my bf and I . My only suggestion and possibly I overlooked this when I purchased . I would order the mans style bracelet for myself as well . 2 mens... because the "daintier " version for ladies is smaller braiding on the bracelet and therefore the metal for the message is also verrry small , hard to read or make out. The quality and everything else COULD NOT BE BETTER . This is just a preference or style suggestion for some buyers . <3 Great Purchase
I recently received our coordinates bracelets. I love them both and I especially like how my boyfriend's looks. For whatever reason though, the font used on mine was exceptionally smaller than his, such that the engraving takes up more of the metal on his than it does on mine. And it's so super tiny on mine. I was disappointed by that. Other than that, the quality is excellent on both of them. And we look forward to wearing our bracelets together.
I ordered this last minute Christmas gift for my dad and I and I was so excited when the bracelets came in way before expected. They looked great and he loved them!
I ordered these for my hubby and myself. He loved it! Seller communicated very well and even checked on arrival and liking.
There was only a slight issue with shipping, but I was able to contact them and they responded quickly and sent me the shipping information. I got this for me and my best friend and it showed up right on time for his visit. It's the perfect accessory to add to your daily look and remind you of the important things.
Thank you, they're absolutely gorgeous! :)